The production of green hydrogen, generated by renewable energy sources, can be the key of the reliable, clean and affordable energy supply, since this provides the previously lacking possibility of long-term storage. In addition, the imperative simultaneity of renewable generation and consumption by consumers can be eliminated.
MODERN CONVERTER SOLUTIONS
ConverterTec offers modern, stand alone or containerized converter systems in a modular design. We support applications in a power range from 0.5 MW to multi-MW. The medium-voltage connection can be implemented in a 20 ft. or 40 ft. standard container. Based on our experience of more than 25 years within the field of power electronics and an installed generation capacity of over 45 GW (cumulative) grid-connected systems in 47 countries, we have the expertise and the production possibilities to provide solutions for complex projects and problems in the area of grid integration, also in combination with renewable energies.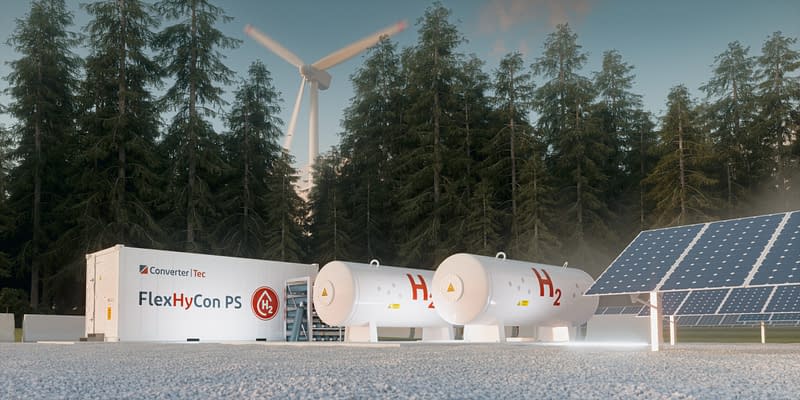 LIFETIME EXTENSION OF YOUR ASSETS
Renewable Energy assets running out of the e.g. EEG (German Renewable Energy Sources Act) in Germany after 20 years are particularly suitable here. These installations are usually smaller decentralized sites with uncertain future. The lack of a stable financial compensation combined with simultaneous energy generation has a negative effect on a lifetime extension decision.
In some cases asset owners face significant lower prices per kWh, sometimes way below 4 €cents / kWh. This leads to a situation in which renewable energy is still needed but unfortunately no longer profitable from an economic point of view. However, these systems offer the advantage of immediate availability without having to go through tedious approval procedures.
DECENTRALIZED HYDROGEN PRODUCTION
The lifetime extension of existing assets offers a possibility to produce hydrogen by utilizing existing decentral energy production sites. This holds the opportunity to provide an important contribution for further decarbonization and sector coupling. In addition, it is a solution to comply with the latest grid codes without the necessity to adjust the installed asset at all. Topics such as PFC (power factor correction), low THDi feedback into the grid as well as active filtering or optional phase shifter operation (StatCom) are only possible using modern converter technology, which protects the grid from electrical impurities.
In summary, ConverterTec with its Modular Platform is ideally equipped to continue to drive the energy transition and thus to provide an active contribution to enhance the efficiency of sector coupling (electricity and heat). A solution to economically operate existing wind turbines – 6 GW alone were installed until 2000, then 2-3 GW / year – offer a potential in order to make a significant contribution to the climate change and its implementation over time.